Are you interested in a camel ride? Well, if the answer is yes Hunder Sand Dunes of Ladakh offers you with the ride on a double hump Bactrian Camel.
Beyond the leisure and monastic side of Ladakh, there are stunning silver sand dunes of Hunder in the Nubra Valley region. Like the rest of the Tibetan Plateau, Nubra is a high altitude cold desert with rare precipitation and scant vegetation except along river beds.
Hunder Sand Dunes are beautiful beyond imagination. Situated at an altitude of 4,000 meters, the desert is cut across by a gentle stream and the beautiful countryside. With such stunning landscapes against the backdrop of the snow-clad mountains, the Hunder Sand Dune looks nothing less than a fairy world. Beyond its beauty, the dunes are home to the Bactrian Camels, the major key players during the ancient silk route, and Pashmina Goats. Tourists can also go on a safari on the Bactrian camel that will take them back to the time when the trade was quite prominent within Central Asia and to the remote village of Hunder.
How to reach Hunder Sand Dunes ?
It will take around 4-6 hours of ride from Leh town to reach Diskit. Starting from Leh, you need to drive off the road leading to Khardungla Pass(world's highest motorable road) and reach Diskit from where Hunder Sand Dunes are at a distance of 4.9 km away which will hardly take your 10 minutes to reach there. Before heading on the journey to the Hunder Sand Dunes, make a point to fill your car petrol or diesel to the brim as there are hardly any stations.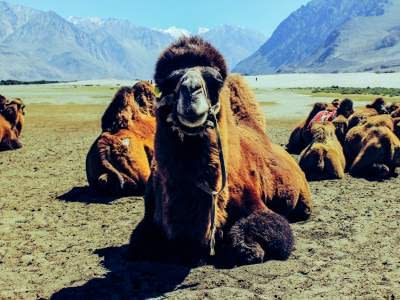 The best time to plan a visit to Hunder Sand Dunes of the Nubra valley will be between July and September.
It is such a thrilling experience which will literally make your heart pound when you sit back on the camel because it's going to be a bumpy ride with a lot of times feeling as if you are going to fall off but that's so unlikely to happen. You can spend time near camels watching them eating grass and walking around the dunes. There is no entrance fee for this. Riding a camel through the sand dunes is one of the most popular activities mainly among families. The common cost is 200 INR for 15 min ride.
Do visit Ladakh and drench your soul completely in the mesmerizing valleys and mouth widening landscapes.