Well everyone must have heard about the beautiful landscapes and serene nature of Leh -Ladakh. But what can also be taken into consideration is the things you can shop at Leh Market.
Apart from having natural bliss, Leh is a small town which is famous for its local market which attracts every tourist to take something for their loved ones even it is of small value so that they can cherish the memories of their trip from the things they shop there.
Leh Market is an amalgamation of every kind of material a person can buy, including handicrafts, woolen materials, jewelry, soft toys, home decor and many more at an affordable price.
Today in this Blog we will be discovering all those things which are worth buying at Leh Market.
Top 12 things for all the shopping lovers to buy at Leh Market
Pashmina shawls and Handloom Carpets
You will find beautiful pashmina shawls and carpets in almost every store in Leh. The price for shawls basically starts from Rs 1000 and above, since the shopkeepers claim that these are handmade pashmina shawls, but don't fall into their prey and always bargain before finalizing the price.
Most of the handloom products in Ladakh are handmade, and hence the cost is a bit high as compared to what you will find in other cities.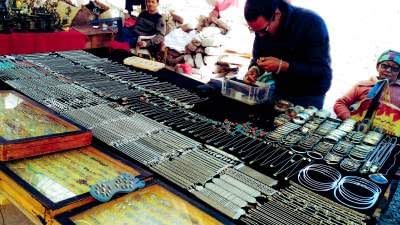 Silver pieces of jewelry are the most eye-catching thing in the Leh market. There are varieties of items you can buy in silver jewelry like neckpieces, bangles, earrings, anklets, nose rings, finger rings and many more. The range of these items vary from product and design, it can either be of Rs.500 or can also range to Rs 10,000. One of the neckpieces which I found beautiful I was planning to take, but buying it would have made holes in my pocket. Just kidding, you can buy whatever you like and don't forget to bargain.
Semi-precious stone jewelry
I suppose every woman on this earth love to buy new ornaments whenever they get a chance to. Well, Leh market offers you with tempting jewelry designs made out of semi-precious stones. You will find a wide range of turquoise stones jewelry, which you should surely buy. The designs are really authentic and traditional in terms of Ladakhi customs. You will find a lot of traditional ladakhi ornaments which you can buy.
Mask in Buddhist and Tibetian culture holds great importance, these stand for gods and demons, as well as animals, whose virtues are evoked, fairies and ghouls. Leh market is full of such masks which you can take to your home to give your living room some buddhist culture touch. I personally found these masks very beautiful and worth buying.
Antique Ladakhi locks and hangers
Only when you thought that you have had enough dose of antique and authentic crafts of Ladakh specialty, you will find leave yourself astound seeing these beautiful and antique locks, hangers, door hold knob and what not on earth. Whoever is a fan of collecting or buying antiques, for them it's a golden opportunity to add a few more assets in their bucket list.
Buddha statues with stone work
It will be an incomplete trip without buying a Buddha statue from a place which has Buddhism as a prominent religion in practice. In Ladakh market, you will find several shop selling elegant Buddha statues ranging from a minimal price of Rs. 100 up to a price of Rs. 25,000. The majority of Buddha statues are handcrafted in the local factories and are made out of pure brass, copper or silver, that's why a high range of cost for these items. But when it comes to something you really like, then the price is a secondary factor for that. Trust me you could not resist yourself from buying these beautiful statues, and don't forget the universal mantra to bargain, though it's difficult to do so, still, bargaining can help you reduce the cost by 20-30 percent.
Prayer wheels decor piece
A prayer wheel is a cylindrical wheel on a spindle made from metal, wood, stone, leather or coarse cotton. According to the Tibetan Buddhist tradition based on the lineage texts regarding prayer wheels, spinning such a wheel will have much the same meritorious effect as orally reciting the prayers. Prayer wheels are used to accumulate wisdom and merit (good karma) and to purify negativities (bad karma). You can surely buy such wheels as a dummy model to decorate your houses and give a touch of good vibes.
Ladakh Nature Products offers a range of hand-crafted Ladakhi wool clothing, including wool dress coats, short jackets, women's vest, 100% sheep & yak wool knit caps, gloves, socks, and slippers. The hat you see me wearing in the photo below was of Rs. 200. The climate of Ladakh is cold, so winter clothing is among one of those things you fill find in every second shop to buy and trust me you will surely end up buying something or the other for your family and friends back home.
Buddhist symbolic statues
I was just mesmerized by the various symbolic Buddhist statues and wall hangings which filled the market like anything and it made me buy everything I found or felt a sense of artistic touch in it. But with a limited amount of expenses I managed to buy few, the decorative pieces you see in the picture below was worth Rs. 800.
The snow leopard is a very rare and famous species found in the valleys of Ladakh. You could find a few of these Snow Leopard majorly wandering in the Rumbak Valley in the month November to December. You can find handmade cotton stuffed soft toys replicating the Snow Leopard of Ladakh. These soft toys are perfect for newborn and small children since it's washable and purely elastic-free.
Postcards and magnets of places in Ladakh
Well, the best way to keep a place alive in your memories is through photographs. You will find a variety of small photo postcards and magnets which had the beautiful landscapes of Ladakh on it. Be it Pangong Lake, Tso Moriri Lake or Thiskey Monastery, Hemis Monastery, Shanti Stupa and many more. You will find a variety of such small beautiful photo post cards in the Ladakh market.
You can buy a variety of Ladakhi style cookware and Cutlery in the market. It is beautiful in look and very authentic to its cultural importance. People of Ladakh tend to display their kitchen and cutlery items like a decorative piece in their homes living room. I end up buying these three beautiful pots each of Rs. 300, but after a certain amount of bargaining the final cumulative price landed to a total of Rs. 750.